Augmented Reality Windows: The Retail Display Of The Future
AR windows are interactive displays that have shown to increase engagement, footfall and sales.
There has always been one issue that has plagued out of home media like billboards, bus shelter and other static advertising media and that is that there's no real way to measure the effectiveness of the ad and if it actually worked. It just isn't possible to work out specifically how many people have seen a piece of OOH and how many of those people went in store or online to make a purchase. Well now with the advent of AR windows this may no longer be such an issue for brands. These augmented reality displays are able to track analytical data completely in real time.
What Are Augmented Reality Windows?
Augmented reality windows, just like the ones that are being offered by Ads Reality, look as though they are just a normal advertising video display. However, they are a lot more than just that. These AR displays use augmented reality to provide passers by with an interactive experience that can also then encourage them to enter a store or else visit an online shop.
The AR window works very simply. It doesn't require any special apps for it to work. A good move as people are always going to be less likely to go installing apps from agencies they've never heard of. AR windows function solely though the WIFI. And it doesn't need that much. It can literally just run off a free public connection.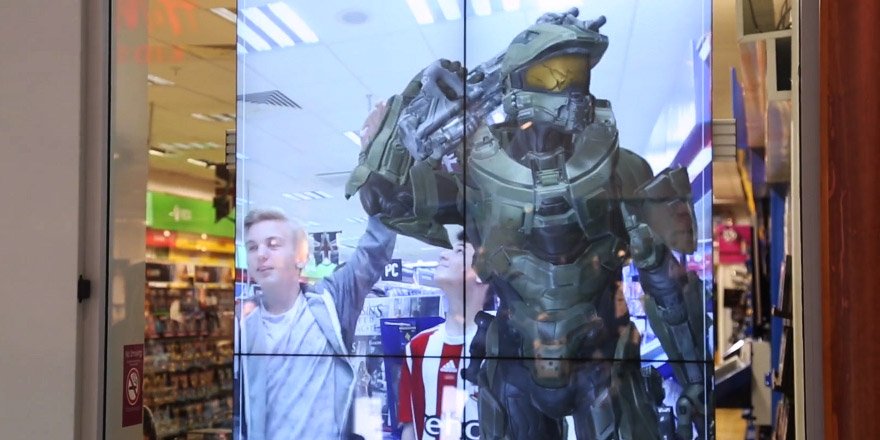 How Does An AR Window Work?
There is 3 different interactive experiences that can be programmed in to be offers to anyone who passes by:
Character Engagement
In this AR experience known characters such as cartoons, superheroes or even public figures appear in the display and appear to be moving around as if they were one of the passer's by. People can step into the view of the AR window and snap some shots of them with the AR characters.
Interactive Games
These interactive AR games are excellent for attracting foot fall towards shop windows, events and other public venues. They really can garner a lot of attention and their very nature ensures engagement with a high shareability. These AR games are fully customised to mirror on going branded promotional campaigns and usually involve some sort of call to action and sign up.
Enhanced Product Engagement
This type of thing is just absolutely perfect for our modern age were people are simply too busy to be flicking through leaflets or browsing a catalogue. These AR windows can offer up helpful information or technical details about products in an interesting and engaging way. Video tutorials, special offers and promotions can all be included into these AR experiences. All with the aim of increasing conversions.
These new forms of interactive digital media are going to pave the way that retail marketing will need to tread in this ever-changing digital world, where mobile devices are king and attention spans are shortening. At the end of the day the mobile has been the primary device for shopping and browsing for many years now.
Main Benefits and Features of these New Augmented Reality Displays
These AR displays are not your average AR displays either. These are truly unique and totally different to the other ones that you may have already seen being used in different in store promotional activities. The key difference with these AR displays is that they are able to transmit analytical data completely in real time. What this means is that it can allow a campaign manager to observe the successfulness of the ad and make tweaks as they go if certain ads are not performing.
AR Window Specific Features:
app-less interaction. This enables a higher potential reach among passers by the augmented reality window.
shop-on-screen technology built in for people who are swayed to make purchases there and then.
Ads Reality provide an end-to-end service for all of their AR Windows
This AR display has already been shown at this year's NFR Retail Show in New York, as well as being exhibited at the Las Vegas Digital Signage Expo. Some of the main benefits shown from using these AR Displays are:
Increase in store visitors
Deeper interactions with potential customers
Increase in sales
Increase in brand reach
Increased shareability and awareness
Increase in brand sentiment
This newly released augmented reality display is going to soon become the new reality for retail brands who understand the future and are looking to advertise retail through a more interactive and personal experience, with the ability to build in touch points along every step of the conversion journey.
Check Out Our Latest Posts