5 Of The Best Branded Instagram AR Filter Examples
Instagram AR filters are augmented reality filters that can be applied to images and videos shared on Instagram. They use computer vision technology to track the user's face and overlay digital graphics, animations, and effects on top of the real-world image. Users can interact with the filters by moving their head or using the screen, and can share the resulting images and videos with their followers. They are created using Spark AR Studio and can be created by individuals and brands.
Brands can use Instagram AR filters in several ways:
Product promotion: Brands can create AR filters that showcase their products in a fun and interactive way. For example, a beauty brand could create a filter that allows users to try on different lipsticks or eye shadow shades.
Brand awareness: Brands can create AR filters that feature their logo or product in a way that is likely to be shared by users, thereby increasing brand awareness.
Event promotion: Brands can create AR filters for specific events, such as a product launch or a concert, to generate buzz and excitement around the event.
Influencer marketing: Brands can partner with influencers to create and promote AR filters, which can help to reach a wider audience and increase engagement.
Gamification: Brands can create AR filters that allow users to play games or compete with friends, which can help to increase engagement and encourage users to share their results on social media.
Surveys: Brands can use Instagram's survey sticker to conduct surveys through the AR filters.
Overall, Instagram AR filters allow brands to connect with their target audience in a creative, engaging, and interactive way, which can help to increase brand awareness, engagement, and ultimately drive sales.
5 Of The Best Branded Instagram AR Filter Examples
STRAY AR Filter
This Instagram AR filter was created for the release of the 2022 adventure game developed by BlueTwelve Studio that features a stray cat lost in a robot city. Through this AR filter users can place the cat from the game into the real world and capture some interesting content.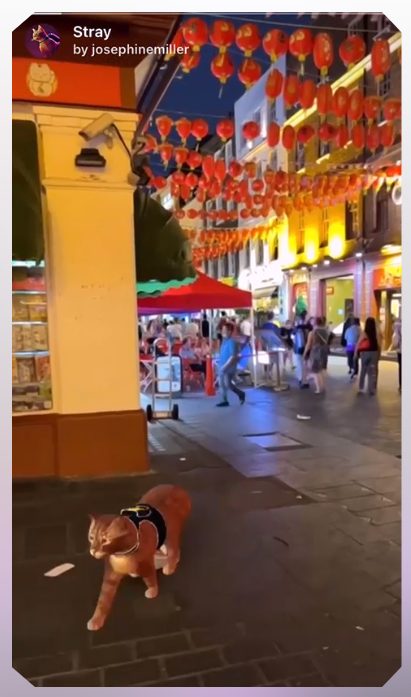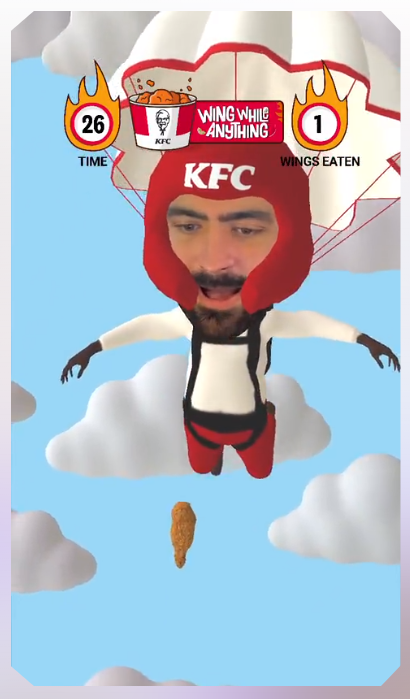 KFC AR Game Filter
KFC is an American fast-food restaurant chain that is known for its delicious fried chicken. They have created an Instagram AR Game Filter that allows users to play a fun and interactive game that helps to promote their brand and products. The game involves catching as many chicken wings as possible, and is a unique and engaging way for users to interact with the KFC brand.
This AR filter was created by the Arabian branch of KFC, and is a creative way for them to connect with their target audience and increase brand awareness.
God Of War AR Filter
This Instagram AR filter was developed for the release of "God of War Ragnarok" to give users a taste of the game's incredible graphics and atmosphere.
The filter allows users to fully immerse themselves in the game's world and become the iconic main character, Kratos.
Try it out and experience a great example of a fully immersive AR face filter.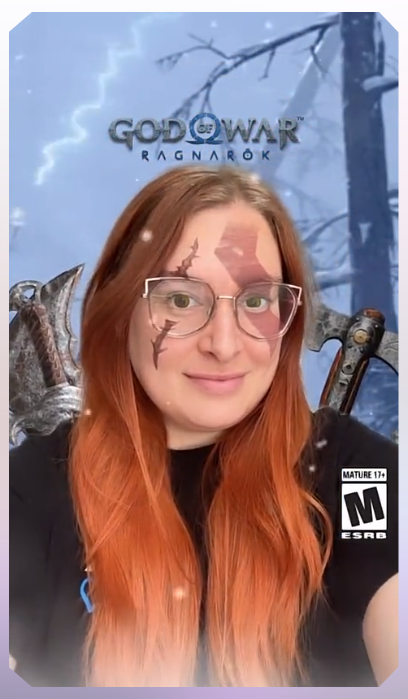 Virgin Voyages Portal AR Filter
Virgin Voyages, a luxury cruise line, has created an AR filter to showcase the brand and promote its holidays. This Instagram filter is a very good example of a portal AR filter. It has a super premium feel to it and allows users to access different places through an AR port hole.
Try the filter and see for yourself the beauty and luxury of a journey with Virgin Voyages.
LIDL AR GAME FILTER
This Instagram AR Game filter was developed for LIDL in the UK and is a very nice example of a temple run style AR game filter.
I think I would have rathered some super market sweep style aesthetics but the 3D animation came out well nonetheless.
Try it out and experience a great example of an AR mini game
Check Out Our Latest Posts
AR Toys. Augmented Reality In The Toy Industry, It's Going To Be Big
Best Christmas Web AR Experiences Of 2022
Instagram AR Filters. Using Spark AR Studio | The Definitive Guide